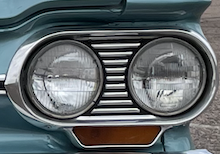 1964 Corvair Monza EV
Charging ahead at full speed.
Sep 06, 2021





After some minor wiring tweaks I was able to get the car to charge from my EVSE via the J1227 plug. I had tried to do this when I first got the car but it didn't work. I could only charge the car from a 110 outlet. I finally set aside some time to check the wiring at the AVC2 module and found the J1227 port pilot and proximity wires were swapped. Easy fix.
PLEASE KEEP COMMENTS PG-13 or they may be removed
PLEASE KEEP COMMENTS PG-13 or they may be removed
Back