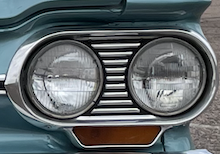 1964 Corvair Monza EV
Instruments: Back to stockish
Jun 13, 2021



The chore of reverting to the original instrument cluster was actually very straightforward. I decided to move the EV specific gauges to a spot under the (missing) radio, and keep the EV related switches mounted in the original cluster - losing the cigarette lighter and also the area where the automatic transmission shifter used to go. Note the shifter is now mounted to the side of the radio.



Missing also is a keyed ignition switch - which I will reinstall at some point so that you need to have a key to actually turn on the car. I also loomed all of the loose wiring into three separate looms - some of that you can see through where the radio should go.

In order for the new (old) instrument cluster to work I did have to splice in some new lightbulb sockets for the turn signals and illumination, which were cut out previously. I also had to connect in the ignition wire to a switched 12V so that the accessories (wipers, turn signals, etc) would work when the main switch is turned on.

I will find a use for the fuel gauge - perhaps repurpose it into a volt meter or state-of-charge meter. We shall see. But I like this a lot more now.


PLEASE KEEP COMMENTS PG-13 or they may be removed
PLEASE KEEP COMMENTS PG-13 or they may be removed
Back